Premiering at this year's Sundance Film Festival, Daina Reid's Run Rabbit Run is an occasionally frustrating watch. While successfully establishing an eerie atmosphere and enticing mystery, it's pacing drags in parts due to repetition – both in unfolding its plot and its scares. That being said, it's not a movie that audiences should give up on.
After a bit too much treading water, the film really gets down to business as it veers into its third act. It delivers satisfying (albeit logically flawed) conclusions to the big questions it teases you with throughout, but more importantly it manages to pull off what can be interpreted as a surprising and excellent genre shift that pairs well with an exciting descent-into-madness turn from Sarah Snook. 
Run Rabbit Run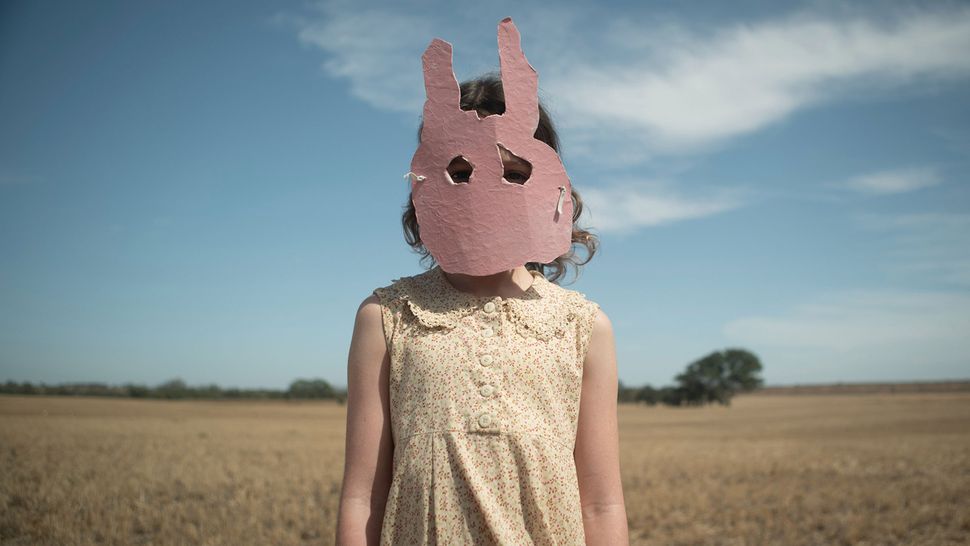 Directed By: Daina Reid
Written By: Hannah Kent
Starring: Sarah Snook, Lily LaTorre, Damon Herriman, and Greta Scacchi
Release Date: Unknown
The talented Succession star plays Sarah, a divorcée who we meet as she both mourns the recent death of her father and prepares to celebrate the seventh birthday of her daughter, Mia (Lily LaTorre). A family night has its rocky moments, but it goes well; the real problems start in the aftermath. Mia starts acting strangely – specifically by becoming obsessive about Sarah's family. She demands to meet Sarah's estranged mother, Joan (Greta Scacchi); insists that Sarah call her Alice, the name of Sarah's sister; and becomes obsessed with a photo of the real Alice.
Harboring dark secrets about trauma from her childhood, Sarah is both horrified and mystified by Mia's behavior. When a visit to see Joan, who has dementia, takes a turn for the disturbing, and Mia's teacher shows Sarah creepy drawings on the back of homework assignments, Sarah's ex (Damon Herriman) suggests that the mother and daughter take a trip to Sarah's childhood home and confront what's at the center of everything.
That's a plot description that admittedly covers a lot of ground in Run Rabbit Run, but that's really just indicative of its biggest issues. It intends to draw you in with questions about what happened to Sarah in her childhood and what exactly is going on with Mia, but there isn't enough to the plot for the movie to properly doll out hints and clues that keep your mind searching for answers. This alone makes the film feel overlong, and helping nothing is repetitiveness  
It's cutting when the young girl shrieks that Sarah is a terrible person and makes claims that she is not her mother, but it loses its effectiveness overtime – as do jump scares that have Mia suddenly appearing and making the protagonist leap out of her skin. Run Rabbit Run offers some nice shots of adrenaline, but they don't always feel totally earned in the moment.
Thankfully, it's in the third act that screenwriter Hannah Kent and director Daina Reid find their focus – which is somewhat ironic given that there is a kind of dream logic that takes over and chaos begins as Sarah starts to unravel. Reality, hallucination, and psychosis blend as Sarah Snook's character confronts what happened with her and her sister when they were children, and the answers that come as a result successfully raise one's heart rate and clarify everything that's been happening.
 And while, given the spoiler-free nature of this piece, I can't comment specifically on what happens at the very end of of Run Rabbit Run, I will say that it saves its best note for last. It may end up spurring different interpretations, but the most exciting read provides a realignment of the nature of the story that makes one look at the whole film with a different perspective.
Those intrigued by the Australian horror movie probably won't have to wait too long before being able to watch it, as unlike some other high profile titles in this year's Sundance Film Festival lineup, Run Rabbit Run is already set up with a distribution deal from Netflix (opens in new tab). The streaming service has not yet announced a release date, but soon enough it will find a place on the Netflix 2023 Calendar.
Be on the look out for more of our Sundance Film Festival 2023 coverage here on CinemaBlend, including an early reaction to Jonathan Majors' intense bodybuilding drama Magazine Dreams and a look at the Indigo Girls documentary It's Only Life After All.