Cardi B and Offset Finally Reveal Their Son's Name
World, meet Wave Set Cephus. After welcoming their second child back in September, Cardi B and Offset finally revealed their son's name on April 14. "When Set suggested Wave, I was sold! THAT HAD TO BE HIS NAME," Cardi tweeted. Along with the name reveal, the couple also gave us the first full glimpse of their baby boy on Instagram and ESSENCE's upcoming May/June cover. Cardi's photo album shows Wave looking as cool as ever in a baby-blue ensemble complete with a matching chain. In Offset's snap, the tiny tot looks adorable while chilling in the bath with multiple chains and a diamond earring. On the ESSENCE cover, he's pictured alongside his family, including the couple's 3-year-old daughter, Kulture, and Offset's kids Jordan, Kody, and Kalea from previous relationships. In the accompanying interview, the pair opened up about their decision to protect their family's privacy after welcoming Wave last year. "We went through a lot of sad things when it comes to Kulture - terrible behavior that not even the older kids have ever been through," Cardi explained of the internet trolls who targeted their daughter. "So many people will post mean, disgusting things, just to get a reaction from us." She added, "We want to protect our feelings, because we get very, very angry and upset." Cardi and Offset tied the knot in 2017 and welcomed Kulture a year later in July. The "WAP" rapper announced that she was pregnant with her second child at the 2021 BET Awards. Until now, neither Cardi nor Offset had shared photos of Wave's face or revealed his name. Related: Check Out Cardi B's 11 Tattoos, Including 1 That Took 60+ Hours to Complete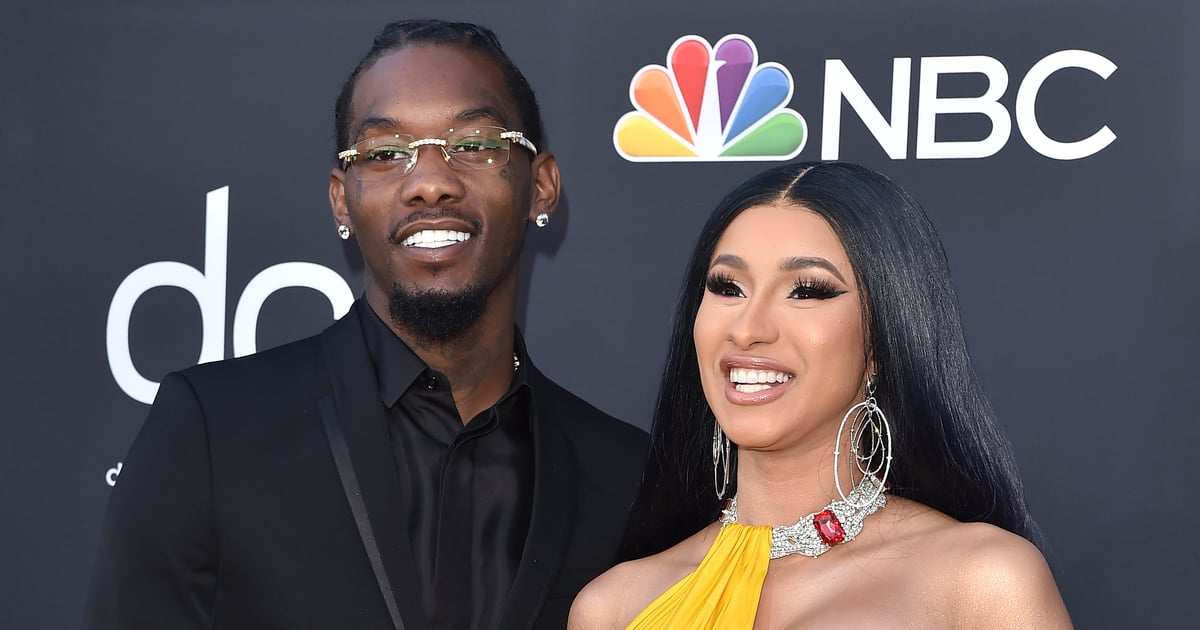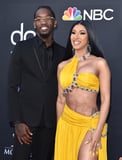 World, meet Wave Set Cephus. After welcoming their second child back in September, Cardi B and Offset finally revealed their son's name on April 14. "When Set suggested Wave, I was sold! THAT HAD TO BE HIS NAME," Cardi tweeted. Along with the name reveal, the couple also gave us the first full glimpse of their baby boy on Instagram and ESSENCE's upcoming May/June cover.
Cardi's photo album shows Wave looking as cool as ever in a baby-blue ensemble complete with a matching chain. In Offset's snap, the tiny tot looks adorable while chilling in the bath with multiple chains and a diamond earring. On the ESSENCE cover, he's pictured alongside his family, including the couple's 3-year-old daughter, Kulture, and Offset's kids Jordan, Kody, and Kalea from previous relationships.
In the accompanying interview, the pair opened up about their decision to protect their family's privacy after welcoming Wave last year. "We went through a lot of sad things when it comes to Kulture - terrible behavior that not even the older kids have ever been through," Cardi explained of the internet trolls who targeted their daughter. "So many people will post mean, disgusting things, just to get a reaction from us." She added, "We want to protect our feelings, because we get very, very angry and upset."
Cardi and Offset tied the knot in 2017 and welcomed Kulture a year later in July. The "WAP" rapper announced that she was pregnant with her second child at the 2021 BET Awards. Until now, neither Cardi nor Offset had shared photos of Wave's face or revealed his name.