Ex-German FM calls out Ukrainian 'conspiracy theories'
Former German Foreign Minister Sigmar Gabriel has criticized the Ukrainian ambassador for spreading "conspiracy theories" Read Full Article at RT.com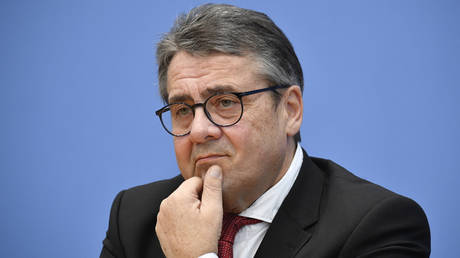 Sigmar Gabriel says Berlin has every right to refute false narratives spread by Kiev
Sigmar Gabriel, who served as Germany's top diplomat from 2017 to 2018, says the current government in Berlin can and should defend itself against "conspiracy theories" leveled at it by the likes of Ukrainian Ambassador Andrey Melnik.
In an op-ed published by Der Spiegel on Sunday, Gabriel described as "dangerous" the narrative peddled by the Ukrainian representative in Berlin, according to which German President Frank-Walter Steinmeier had "for decades established a cobweb of contacts with Russia," allegedly involving members of the current German government.
The former foreign minister said that he took Melnik's 'cobweb' reference to mean that Steinmeier and the whole of Merkel's office had helped Moscow "co-organize" its lobby in the country – an allegation Gabriel dismissed as "untruthful and malicious." According to him, the previous government "had done more than others in Europe to support Ukraine."
Russian Foreign Ministry spokeswoman Maria Zakharova was quick to comment on Gabriel's article. In a Telegram post, she argued that people like Melnik "with exactly the same ideology, though not in the guise of ambassadors, but rather armed with assault rifles and with 'Azov' patches, have been terrorizing people with Ukrainian and Russian passports in Ukraine as well as threatening Russia for the past eight years."
Read more

Ukraine explains decision to shun German president
Zakharova suggested that officials in Berlin should try to imagine how they would feel "if such a monster was to grow near Germany," simply because "Washington wanted to turn a neighboring country into a bull terrier that would be set on the Germans."
She also pointed out that while the German government had expelled "cooperation-oriented Russian diplomats," it continues to engage in an "epistolary polemic with the Ukrainian ambassador hell-bent on nationalism."
As for Gabriel's assessment of German-Ukrainian diplomatic relations, he singled out one more example of conspiracy theories allegedly spread by Ukrainian officials and lapped up by the German media – that Merkel's government had supposedly advocated, without putting forth any conditions whatsoever, the removal of some of the sanctions imposed on Moscow following Crimea's reunification with Russia in 2014. Gabriel insists that Berlin agreed to lift the measures only in exchange for Moscow's agreement to pull out its "heavy weapons from Eastern Ukraine and its consent to the deployment of UN peacekeepers" to the region. He went on to claim that "this proposal was never followed up on and implemented by the parties involved."
The former official in Merkel's government described Ukrainian President Volodymyr Zelensky's decision to recall an invitation to Ukraine for President Steinmeier as "unprecedented" and irritating. However, Gabriel acknowledged that Kiev's emotional reaction was understandable under the exceptional circumstances the country is facing. He proceeded to admit to certain shortcomings Germany's leadership had made in assessing Russia in recent years, as well as its failure to heed warnings coming from some Eastern European nations. Gabriel urged German politicians to accept fair criticism.
Read more

Ukrainian move 'irritating' – Germany
However, none of this gives Ukrainian officials the right to spread lies and "intentional misrepresentations" about German officials, he added.
On Tuesday, Steinmeier revealed that a planned trip to Kiev would not take place as he "wasn't wanted" in Ukraine. Meanwhile, the presidents of Poland, Estonia, Lithuania, and Latvia were all received by Zelensky on Wednesday.
Ukrainian officials have criticized the German president on multiple occasions over his alleged connections with the Russian leadership.