Kaley Cuoco Says She's "Halfway" Through Pregnancy in New Baby-Bump Photo
Kaley Cuoco is going to be a mom! On Oct. 11, the 36-year-old actor announced that she and boyfriend Tom Pelphrey, 40, are expecting their first child. "????Baby girl Pelphrey coming 2023???? beyond blessed and over the moon… I ????you @tommypelphrey !!!" Cuoco captioned a series of photos from what looks like a gender-reveal party on Instagram. Pelphrey shared a similar post on his Instagram, writing, "And then it was even MORE BETTER. ????????????. Love you more than ever @kaleycuoco ♥️????♥️." Cuoco shared an update on her growing belly on Oct. 23 when she posted snaps of her and Pelphrey posing with their expecting bundle of joy on her Instagram Story. The photos showed the two having a day date at a pumpkin patch where the pregnant "Meet Cute" actor was seen cradling her baby bump - Pelphrey even placed a sweet smooch on her belly. On Nov. 15, Cuoco gave fans another update on her Instagram Stories, sharing a snap of her baby bump and noting that she's "halfway" through her pregnancy. The exciting baby news comes five months after Cuoco and Pelphrey confirmed their romance in a series of loved-up photos on Instagram. Just days later, the pair made their first public appearance as a couple when they attended the Hollywood Walk of Fame star-unveiling ceremony for television producer Greg Berlanti, who works with Cuoco on HBO Max's "The Flight Attendant." Then, in September, they made their first joint red carpet appearance at the 2022 Emmy Awards. Cuoco was previously married to professional equestrian Karl Cook. The former couple announced their split after three years of marriage in September 2021. Before Cook, Cuoco was married to tennis player Ryan Sweeting from 2013 to 2015. Pelphrey, on the other hand, has been linked to a handful of costars in the past, including Jaimie Alexander, Lili Simmons, and Gina Tognoni. Scroll ahead to see photos of Pelphrey and Cuoco with her baby bump. Related: Kaley Cuoco's Dating History, From Johnny Galecki to Tom Pelphrey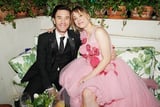 Kaley Cuoco is going to be a mom! On Oct. 11, the 36-year-old actor announced that she and boyfriend Tom Pelphrey, 40, are expecting their first child. "????Baby girl Pelphrey coming 2023???? beyond blessed and over the moon… I ????you @tommypelphrey !!!" Cuoco captioned a series of photos from what looks like a gender-reveal party on Instagram. Pelphrey shared a similar post on his Instagram, writing, "And then it was even MORE BETTER. ????????????. Love you more than ever @kaleycuoco ♥️????♥️."
Cuoco shared an update on her growing belly on Oct. 23 when she posted snaps of her and Pelphrey posing with their expecting bundle of joy on her Instagram Story. The photos showed the two having a day date at a pumpkin patch where the pregnant "Meet Cute" actor was seen cradling her baby bump - Pelphrey even placed a sweet smooch on her belly. On Nov. 15, Cuoco gave fans another update on her Instagram Stories, sharing a snap of her baby bump and noting that she's "halfway" through her pregnancy.
The exciting baby news comes five months after Cuoco and Pelphrey confirmed their romance in a series of loved-up photos on Instagram. Just days later, the pair made their first public appearance as a couple when they attended the Hollywood Walk of Fame star-unveiling ceremony for television producer Greg Berlanti, who works with Cuoco on HBO Max's "The Flight Attendant." Then, in September, they made their first joint red carpet appearance at the 2022 Emmy Awards.
Cuoco was previously married to professional equestrian Karl Cook. The former couple announced their split after three years of marriage in September 2021. Before Cook, Cuoco was married to tennis player Ryan Sweeting from 2013 to 2015. Pelphrey, on the other hand, has been linked to a handful of costars in the past, including Jaimie Alexander, Lili Simmons, and Gina Tognoni.
Scroll ahead to see photos of Pelphrey and Cuoco with her baby bump.