Sarah Paulson and Holland Taylor Conquer Paris Fashion Week Hand in Hand
Sarah Paulson and Holland Taylor brought their love to the City of Love. The couple attended Fendi's haute couture presentation during Paris Fashion Week on Jan. 26, marking their first joint Fashion Week appearance. They arrived hand in hand to the show, both carrying the same black handbag and wearing structured power suits - Paulson chose an oversize camel blazer and matching pants, and Taylor subtly coordinated in a gray jacket and white pants. The stars enjoyed the show from the front row sandwiched between French actor Adèle Exarchopoulos and celebrity stylist Law Roach. Other celebrities in attendence included Kerry Washington, Rita Ora, Milly Alcock, and Emilia Jones. Just two weeks ago, Paulson, 48, celebrated Taylor's 80th birthday by sharing a sweet tribute on Instagram. "You matter to me. YOU. MATTER. TO. ME. You've changed me. In all the important ways," the "American Horror Story" star wrote alongside a photo of her partner. "Sharing my life with you has made everything else make sense. Happiest Birthday to you, Holland V. Taylor. I just want to say thank you. Thank you for loving me. I will never be the same." Paulson and Taylor first met at a dinner party in 2005, but were both in other relationships at the time. Fast forward to 2015, and their paths crossed again, prompting them to start messaging each other on Twitter. Later that year, they made their first public appearance as a couple at the opening night of "School of Rock" on Broadway and have stepped out at various award shows and events since then. Most recently, they walked the red carpet at the 2022 Emmys, where Paulson was nominated for outstanding lead actress in a limited series or movie for her role in "Impeachment: American Crime Story." Celebrity couples have been stepping out left and right during Paris Fashion Week, from Anne Hathaway and Adam Shulman to Rose Leslie and Kit Harrington. Read ahead to for all the photos of Paulson and Taylor looking smitten and stylish at the Fendi show. Related: Dylan O'Brien and Model Rachael Lange Spark Dating Rumors With Paris Fashion Week PDA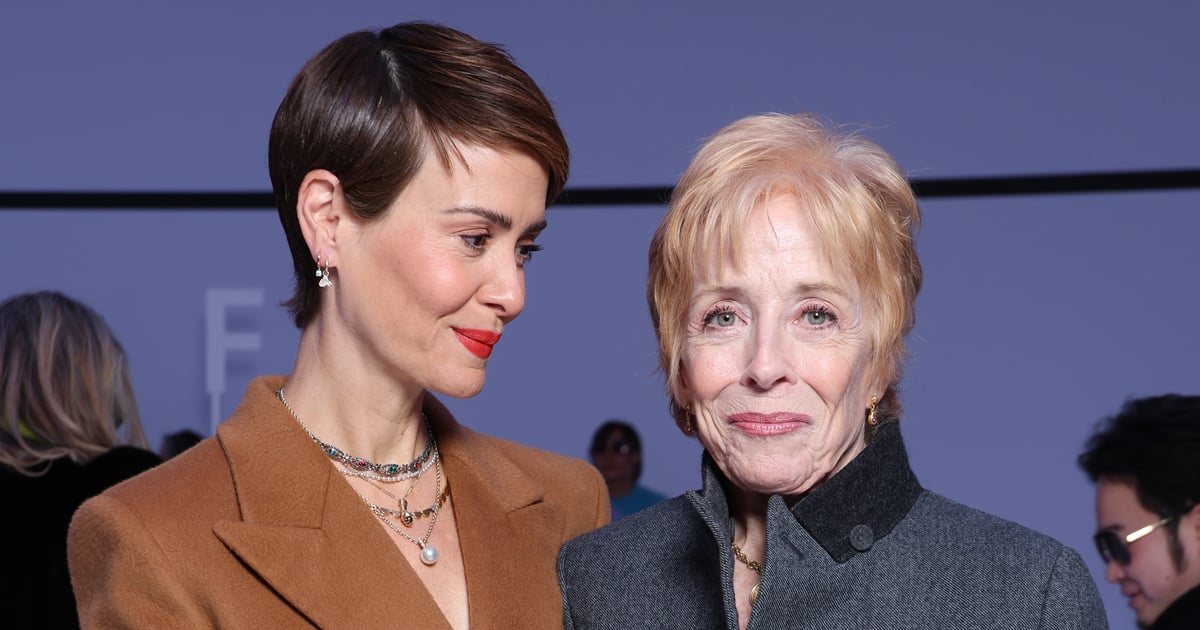 Sarah Paulson and Holland Taylor brought their love to the City of Love. The couple attended Fendi's haute couture presentation during Paris Fashion Week on Jan. 26, marking their first joint Fashion Week appearance. They arrived hand in hand to the show, both carrying the same black handbag and wearing structured power suits - Paulson chose an oversize camel blazer and matching pants, and Taylor subtly coordinated in a gray jacket and white pants.
The stars enjoyed the show from the front row sandwiched between French actor Adèle Exarchopoulos and celebrity stylist Law Roach. Other celebrities in attendence included Kerry Washington, Rita Ora, Milly Alcock, and Emilia Jones.
Just two weeks ago, Paulson, 48, celebrated Taylor's 80th birthday by sharing a sweet tribute on Instagram. "You matter to me. YOU. MATTER. TO. ME. You've changed me. In all the important ways," the "American Horror Story" star wrote alongside a photo of her partner. "Sharing my life with you has made everything else make sense. Happiest Birthday to you, Holland V. Taylor. I just want to say thank you. Thank you for loving me. I will never be the same."
Paulson and Taylor first met at a dinner party in 2005, but were both in other relationships at the time. Fast forward to 2015, and their paths crossed again, prompting them to start messaging each other on Twitter. Later that year, they made their first public appearance as a couple at the opening night of "School of Rock" on Broadway and have stepped out at various award shows and events since then. Most recently, they walked the red carpet at the 2022 Emmys, where Paulson was nominated for outstanding lead actress in a limited series or movie for her role in "Impeachment: American Crime Story."
Celebrity couples have been stepping out left and right during Paris Fashion Week, from Anne Hathaway and Adam Shulman to Rose Leslie and Kit Harrington. Read ahead to for all the photos of Paulson and Taylor looking smitten and stylish at the Fendi show.