Suspected explosive package found in US Embassy in Madrid – media
Spanish media report a sixth letter bomb has been intercepted at the US embassy in Madrid, similar to the one sent to Ukrainian embassy Read Full Article at RT.com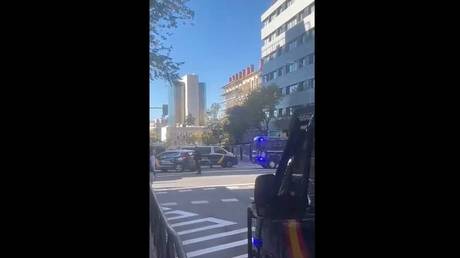 Reports suggest explosive is similar to the five letter bombs sent to Ukrainian embassy and other targets in Spain
Spanish police reportedly cordoned off the area around the US embassy in Madrid and activated anti-terrorist protocols on Thursday after a letter bomb was allegedly delivered to the building, according to local media.
Spanish news outlet laSexta says that authorities have evacuated the nearby buildings and that police sources claim that Tedax bomb disposal units have already detonated the letter.
This comes after five letter bombs were sent to various targets across the country in the past two days, including to the Ukrainian embassy in Madrid, where one worker was injured on Wednesday after opening the package.
Explosive devices concealed in a postal package were also discovered at Spain's Defense Ministry, an air base and an arms factory. Spanish authorities say that a similar letter was sent to Spanish Prime Minister Pedro Sanchez on November 24 and was subsequently disposed-of by bomb-squad experts.
#ÚLTIMAHORA Otro paquete bomba en la embajada de EEUU en Madrid. Sería el sexto del día. pic.twitter.com/YAZlYPPle0

— Borja Jiménez (@borjajimenezd) December 1, 2022
DETAILS TO FOLLOW