"Thor: Love and Thunder" Teases a New Hero in the Film's First Trailer
Image Source: YouTube user Marvel Entertainment The God of Thunder is on a new quest for peace in Marvel's "Thor: Love and Thunder." In the fourth installment of the Thor series, following the events in "Avengers: Endgame," our beloved hero (played by Chris Hemsworth) declares that his "superhero-ing days are over" as he looks to start a new chapter of self-discovery. On April 18, Marvel Studios released the first teaser trailer for the forthcoming film, giving us a brief glimpse of what's in store for Thor. The minute-and-a-half clip - set to the tune of Guns N' Roses' "Sweet Child O' Mine" - begins with Thor declaring his retirement, just after the fall of his kingdom Asgard in the last Avengers film. "These hands were once used for battle; now they're but humble tools for peace," he says in the trailer. But according to the movie's logline, Thor's journey for peace will soon be interrupted by galactic killer Gorr the God Butcher (played by Christian Bale), who's on a mission to eliminate the gods. The rest of "Thor: Love and Thunder"'s teaser marks the return of several franchise stars reprising their roles, including Tessa Thompson, Taika Waititi, and Chris Pratt. But the biggest resurgence from the trailer is Natalie Portman as Jane Foster, who's now been unveiled as the new mighty Thor. Ahead, get more details on "Thor: Love and Thunder," including the rest of the cast, release date, poster, and trailer. Related: Taika Waititi Confirms Korg Will Appear in Thor: Love and Thunder (Sadly, Doug Is Still Dead) "Thor: Love and Thunder" Cast The returning cast of "Thor: Love and Thunder" includes Hemsworth, Portman, Thompson, Waititi, Pratt, Pom Klementieff, Dave Bautista, Karen Gillan, Bradley Cooper, and Vin Diesel. Bale also joins the film as its newest villain. "Thor: Love and Thunder" Release Date "Thor: Love and Thunder" is set to hit theaters on July 8. "Thor: Love and Thunder" Poster "Thor: Love and Thunder" Teaser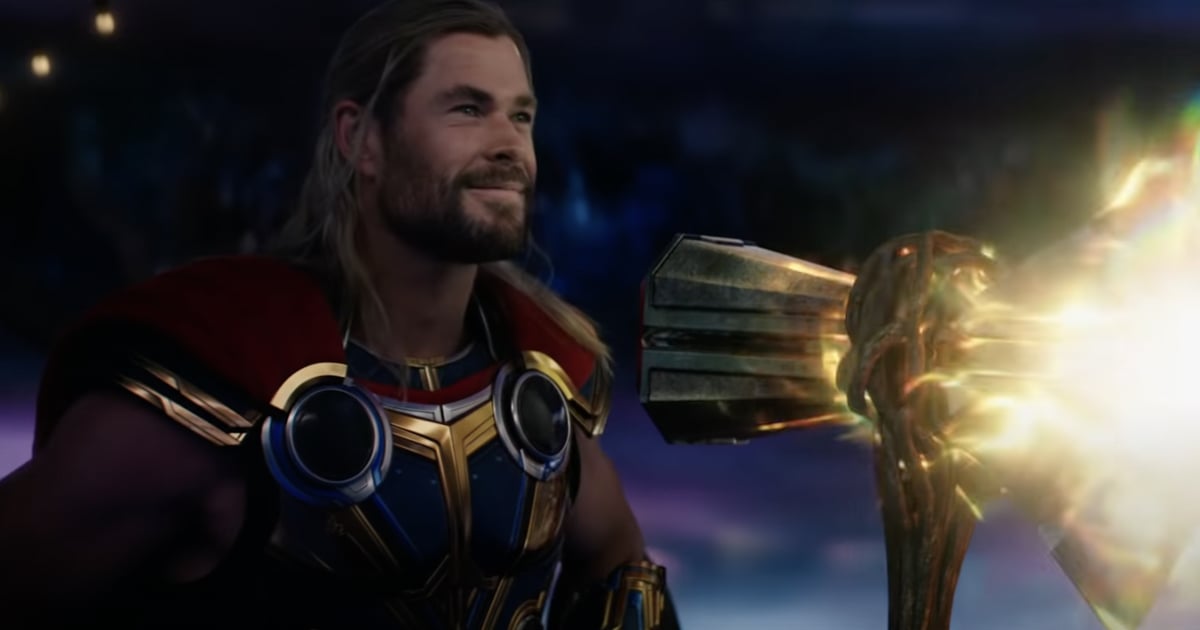 Image Source: YouTube user Marvel Entertainment
The God of Thunder is on a new quest for peace in Marvel's "Thor: Love and Thunder." In the fourth installment of the Thor series, following the events in "Avengers: Endgame," our beloved hero (played by Chris Hemsworth) declares that his "superhero-ing days are over" as he looks to start a new chapter of self-discovery. On April 18, Marvel Studios released the first teaser trailer for the forthcoming film, giving us a brief glimpse of what's in store for Thor.
The minute-and-a-half clip - set to the tune of Guns N' Roses' "Sweet Child O' Mine" - begins with Thor declaring his retirement, just after the fall of his kingdom Asgard in the last Avengers film. "These hands were once used for battle; now they're but humble tools for peace," he says in the trailer. But according to the movie's logline, Thor's journey for peace will soon be interrupted by galactic killer Gorr the God Butcher (played by Christian Bale), who's on a mission to eliminate the gods.
The rest of "Thor: Love and Thunder"'s teaser marks the return of several franchise stars reprising their roles, including Tessa Thompson, Taika Waititi, and Chris Pratt. But the biggest resurgence from the trailer is Natalie Portman as Jane Foster, who's now been unveiled as the new mighty Thor.
Ahead, get more details on "Thor: Love and Thunder," including the rest of the cast, release date, poster, and trailer.
"Thor: Love and Thunder" Cast
The returning cast of "Thor: Love and Thunder" includes Hemsworth, Portman, Thompson, Waititi, Pratt, Pom Klementieff, Dave Bautista, Karen Gillan, Bradley Cooper, and Vin Diesel. Bale also joins the film as its newest villain.
"Thor: Love and Thunder" Release Date
"Thor: Love and Thunder" is set to hit theaters on July 8.
"Thor: Love and Thunder" Poster
"Thor: Love and Thunder" Teaser